Liana - preview photos / videos

When Liana emailed me and she had attached a pic of her in a bikini. All I saw on the pics was her breasts, fantastic full DD sized breasts, the bikini top was struggling keeping the tits, just barely covering her nipples. I told her I'd love to meet her, and here she is. She came to my place and I played with her some nice afternoon hours. This woman is not shy. On the contrary! As she came to my apartment she immediately asked me if I wanted to see her naked, guess what I answered... So in front of me she took of her clothes. Her body is amazing. Her breasts as extremely heavy with lovely big areolas. Her nipples are extremely sensitive. Her pussy is always wet. Open and inviting. Her clitoris is extremely sensitive. She loves to show off, loves to make men want her. She loves to dress to impress, slutty style. One afternoon when she came over she had on a short tight skirt and cut open trashy pantyhose. She told me she loves to show off as a horny slut.
* * *
This is the place if you want to see women 18+ naked and in nylons in private personal pics and video clips. The women are true amateurs and show you how lovely they look and how horny they are. Become and stay Member and see all the updates from each woman - private photos and videos.
*
Below are the updates so far in Members Area
* * *
Liana spreads
her content will be uploaded - then moved to rotating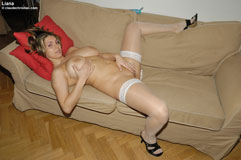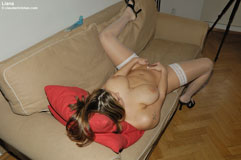 Liana loves to show her body. Loves to spread her legs and touch her wet warm pussy. Here she is at my place, just undressed, keeping her white stay up stockings and high heels on. I have her lay on her back and spread her legs fully apart. Members please enjoy my 22 selected private pics.
Gallery - download this gallery as zip file - pics in size 3000 pixels
Video Liana masturbating
her content will be uploaded - then moved to rotating
Liana is at my place. She looks lovely. Wearing a tight extremely short red tube dress. White stockings and high heels. String panties, no bra! She's horny, her pussy is dripping wet. Her clitoris is pulsating. She desperately need to orgasm. I have her show off her body, stand doggy and have the dress up. The tell her to take the dress off and lay down on her back and spread her legs. She loves having a man, me, a stranger she has just met, standing looking at her. Her massive big breasts DD with big areolas look amazing. She gives her hard clitoris a hard intensive fingering and she reaches a soft nice orgasm. Members please enjoy this private video clip.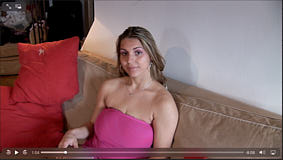 click here for video mp4 - 9 min - streaming 960x540
click here for zip file mp4 - 960x540
Liana trashy
her content will be uploaded - then moved to rotating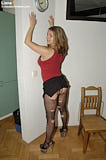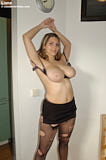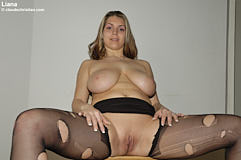 Liana loves to make men horny. And she can! Here she is in a tight top, bra, short skirt, no panties and trashy pantyhose. She slowly exposes her body for us. Her heavy big breasts, her ass, her wet open pussy. Members please enjoy my 57 selected private pics.
Gallery - download this gallery as zip file - pics in size 3000 pixels