New Woman Dana

Dana is the nicest girl ever. She's got an amazing body. All natural. Lovelye full heavy breasts with extremely sensitive nipples. Her ass is round and firm, her legs long and slim, and her pussy super tight and gets dripping wet. It was a treat tying her all naked fully spread, a bondage virgin, and she told me she loved it. I could see her nipples get erected and her pussy open and dripping pussy juice. She admitted she's a horny slut that loved to fuck, loves to be used.
* * *
This is the place if you want to see women 18+ naked and in nylons tied up in private personal pics and video clips. The women are true amateurs and are introduced to bondage and pleasure. Become and stay Member and see all the updates from each woman - private photos and videos.
*
Below are the updates so far in Members Area
* * *
Gallery Dana naked and tied fully spread
It was a sunny afternoon. I my bedroom I had Dana naked, tied spread eagle, tied fully spread. Tied hard, ropes stretched and she could hardly move. It was a treat having this beautiful woman restrained. Her body is lovely, all natural. Her breasts are amazing, her pussy lovely and tight and gets very wet. It was the first time , our first meeting. She had obey a stranger. Undressed and let me tie her. She was smiling, she loved it. First being submissive to a stranger. Then to be totally restrained. Members please enjoy my 41 selected very private pics.
gallery
download this gallery as zip file - pics in size 3000
Video x 2 Dana naked tied struggles - gets dressed and leaves the apartment
Dana loved being restrained, by a stranger. This beautiful girl love sex, loves to fuck. And she loved being naked and tied fully spread. I loved having her tied, naked. Her body is amazing, her breasts lovely and sensitive to touch. Her pussy tight and dripping wet. We played around this afternoon, she loved it. Then I admired her as she slowly got dressed to go back to work. Members please enjoy these private video clip.
Video Dana naked tied struggles
click here for video mp4 - 4 min 5 sec - streaming 960x540
click here for zip file mp4 - 960x540
Gallery Dana tied first time naked and fully spread
Dana wanted to be tied. For the first time ever. And tied by a stranger she had just met. All naked on her back I tied her fully spread, the ropes secured to the bed. She could hardly move. I could see her nipples getting erected, her pussy open and already being dripping wet. She told me being tied was fantastic and she could feel her pussy getting warm and wet. She loved it. Members please enjoy my 55 selected very private pics.
gallery
download this gallery as zip file - pics in size 1280
Video Dana gets dressed - leaves the apartment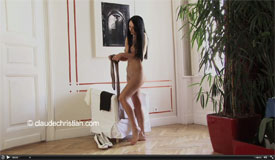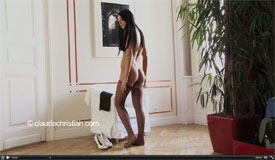 click here for video mp4 - 8 min 50 sec - streaming 960x540
click here for zip file mp4 - 960x540