Karolina - preview

Karolina is a woman with golden angel hair. Her complexion is flawless. Her skin extremely soft and her body intensely sensitive to touch. She has amazingly beautiful natural big heavy breasts. Her nipples get rock hard and she can reach orgasm just by having her nipples licked and sucked. When she came over to my place she was dressed in a very nice dress, pantyhose and high heels. No bra! No panties. She was shy but also horny. It was a treat when she showed off her lovely body.
* * *
This is the place if you want to see women 18+ naked and in nylons in private personal pics and video clips. The women are true amateurs and show you how lovely they look and how horny they are. Become and stay Member and see all the updates from each woman - private photos and videos.
*
Below are the updates so far in Members Area
* * *
Gallery Karolina shows off legs and ass in pantyhose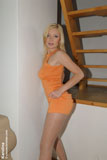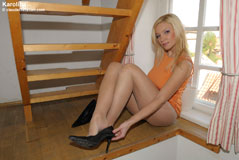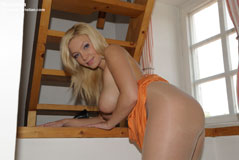 Karolina is a nice woman with big breasts and a nice big round ass. We met, and I convinced her to undress in front of me. I wanted to see her big breasts and her ass in pantyhose. I had already asked her if she uses panties when wearing pantyhose and she had said "never.... ". She first had her dress come up and showed me her pussy and ass, then had the dress come down and exposed her heavy full breasts. She told me she loves to have her panties ripped open, just a small hole so her pussy could be nicely fucked while she is still wearing the pantyhose. Or, having the pantyhose come down, being fucked, then again dressing in the pantyhose, feeling her now wet pussy against the fabric. Members please enjoy my 83 selected private pics.
Gallery - download this gallery as zip file - pics in size 3000 pixels