Bambi - preview

Bambi is a slim brunette with small tits, a very firm ass and a nice pussy. I had her visiting me a couple of times and she always had a nice strong orgasm from being tied and manhandled. She loves to dress in nylons so I had her strip and put on nice stay ups and pantyhose. She loved it.The strongest orgasm she had was when I tied her spread eagle in nice exclusive pantyhose, had a vibrating egg in her pantyhose, in her pussy, and used the remote changing the vibrating mode until she had an intensive orgasm. She told me she loved having orgasms, and that she masturbates several times a day. And that she now was looking for a man that could fuck her whenever she wanted to be fucked. After talking some more she admitted that she had a man already that she uses. One elderly male in her house, a neighbor, she said she liked him because he fucks her gently, always from behind, and has a big load each time that fills her pussy and makes her pussy wet hours after. And he's always available. But now she needed something harder, that she wanted to be used hard. She wanted to be blindfolded and have some strangers fuck her. She smiled and said "and I want to suck their cocks hard again and again".
* * *
This is the place if you want to see women 18+ naked and in nylons in private personal pics and video clips. The women are true amateurs and show you how lovely they look and how horny they are. Become and stay Member and see all the updates from each woman - private photos and videos.
*
Below are the updates so far in Members Area
* * *
Gallery Bambi shows off her body
When she came to my place I immediately told Bambi to undress in front of me, and she did. This girl has a slim firm body. Looooong legs and a firm round ass, small firm tits with nice nipples and a tight pussy. She loves slowly taking off her clothes and I was looking all the time. She had on a tight top, no bra, short jeans skirt and small string panties and nice net stay ups and high heels. I loved when she was standing naked, turned her back against me, spread her legs slightly and pushed her ass up. This girl wanted to be fucked from behind! Members please enjoy my 61 selected private pics.
Gallery - download this gallery as zip file - pics in size 3000 pixels
Gallery Bambi in exclusive pantyhose
She's so horny. Her pussy is so wet. Bambi goes into my bedroom and lies down in my bed and stretches her long legs. Lies on her stomach and pushes her ass up, want to be touched. Then on her back she lies and spreads her legs. She lies there caressing her now rock hard nipples. Her eyes say... - fuck me, please fuck me! Members please enjoy my 21 selected private pics.
Gallery - download this gallery as zip file - pics in size 3000 pixels
Video Bambi in black stockings - stay ups
Bambi was walking around in my apartment all naked. I told her to put on some nylons, some stay ups. She slowly dressed in the nylons, slowly, slowly. Then lay back in my bed and stretched out. I told her I wanted to see her body. Slowly she turned around on her stomach, up on her knees doggy, then on her back spreading her legs! Members please enjoy this private video clip.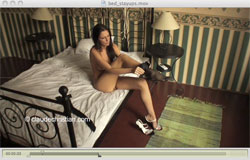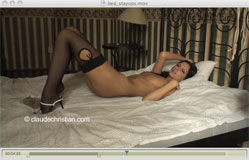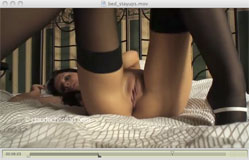 click here for video mov - 8 min 10 sec - streaming
click here for zip file mov