Lola - preview

Lola is a slim beautiful brunette with long legs. She's got a slim body, slim waistline, small but very firm tits with nice sensitive nipples And her ass is round and firm. Her pussy tight. She told me she loves to make men horny, to have a short skirt and no panties and in public let men see her pussy. Or having a super tight top and no bra so her nipples are visible. She looks very innocent but I can tell you this girl is "dirty" she loves to fuck. She's very submissive so she wants to be used hard. And she will do whatever you want her to do. I had her at my place a couple of times and she was very relaxed and had no problem showing her body for a stranger (me) that she had just met. I just loved having her all naked, her appearance is that of a shy girl, but in her eyes you can tell that she's horny. She loved laying in front of me with separated legs and first pinching her nipples until they got rock hard, then slowly slowly touching her pussy, just letting a finger tease her clitoris... it made her pussy open and soon she was all wet. I told her to have an orgasm while I was looking and she just smiled, closed her eyes and soon started moaning and ending up in an orgasm that made her body shiver for minutes.
* * *
This is the place if you want to see women 18+ naked and in nylons in private personal pics and video clips. The women are true amateurs and show you how lovely they look and how horny they are. Become and stay Member and see all the updates from each woman - private photos and videos.
*
Below are the updates so far in Members Area
* * *
Gallery Lola undressing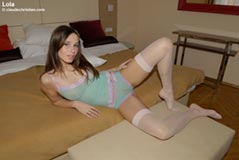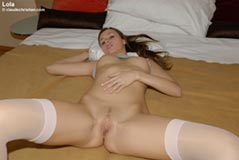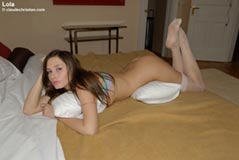 Lola looks so innocent. Her smile is so cute. So when this girl tells you she loves being used hard, it's just very very nice. She's got a girls body, small tits, tight small ass and a pussy that is very very tight! This shoot is from our first meeting. She came over and I immediately told her to undress in front of me, she did. And she was smiling all the time, knowing I liked what I saw. She lay on her back and separated her legs so I could see her tight pussy. She said she would orgasm, needed to orgasm. She then turned around, I put a pillow under her stomach so her as came up and her pussy now was fully open. She pushed her ass up even more.Members please enjoy my 61 selected private pics.
Gallery - download this gallery as zip file - pics in size 3000 pixels
Video Lola naked in bed masturbating
So naked! So horny! Lola wanted me to look at her as she was masturbating, she lay down in my bed and separated her legs fully and started touching her body. I could see her nipples getting rock hard. She caressed her small firm tits and pinched her nipples. Then she just lay there touching her clitoris, something that makes her horny as hell. When I was that she was ready I told her to put on a mask so she was blindfolded. I told her to lay down, to separate her legs and wait.... Members please enjoy this private video clip.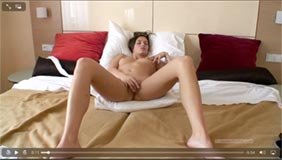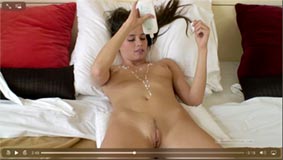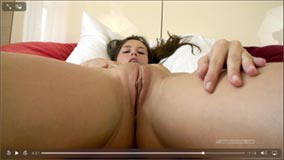 click here for video - 6 min 55 sec - streaming 1280x720p mov
click here for zip file
Gallery Lola spreads skirt up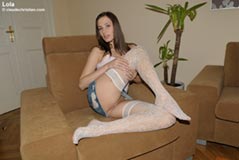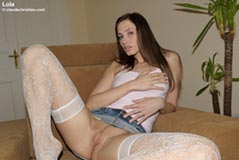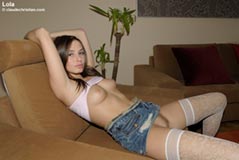 Dressed in a tight top, no bra, her nipples are visible through the fabric! Short jeans skirt, no panties, white net stay ups... Lola had dressed to impress me! And to show how horny she is. She told me not having panties was nice, to flash her pussy now and then to strangers makes her extremely wet. I told her I wanted her to expose her in front of me. And she did. Had the skirt come up and spread her legs fully, and she showed me her perfect tits. Members please enjoy my 22 selected private pics.
Gallery - download this gallery as zip file - pics in size 3000 pixels