New Woman Cindy
Cindy is a submissive lovely woman that loves to have her body touched. This girl needs to orgasm and the best way for her is to be used, touched by a stranger and fucked. To have to obey! Not having 'sex' but being fucked! This girl has long legs and a pussy that is always open and wet. She loves to wear pantyhose and told me her pussy is always flowing and making her pussy and inner thighs slippery and wet. So, she said, she's always ready for sex. She loves to wear a short skirt and pantyhose, then let a man, a stranger have his hand up under her skirt, touching her ass... then her slippery inner thighs... then her wet warm pussy through the fabric of her pantyhose. Most men then tell her they want to fuck her.... most often they try to go to a garage and find a dark corner. She bends over, has the skirt come up and pushes her ass up. There are two types of men, she told me, on that has her pantyhose down and fucks her slowly, not talking.... the other that rips her pantyhose open and fucks her hard and telling her she's a horny slut, a bitch... a dirty whore!!! She loves both types!!! Both leaves her filled with cum that slowly comes out during the day... On the videos with Cindy you can see how horny she immediately gets when she's blindfolded, knowing she will be used! Members enjoy my private pics and videos with Cindy.
* * *
This is the place if you want to see women 18+ naked and in nylons in private personal pics and video clips. The women are true amateurs and show you how lovely they look and how horny they are. Become and stay Member and see all the updates from each woman - private photos and videos.
*
Below are the updates so far in Members Area
* * *
Video Cindy in cut pantyhose licked to intense orgasms
Cindy is at my place, one late afternoon. I have her in my bedroom. Blindfolded, in pantyhose. I cut open the nylons, tie her arms. I have slippery oil on her body. I then caress her, finger her pussy, my finger teasing her clitoris. Her nipples are now rock hard. I then slowly lick her to several mind blowing orgasm. She is horny as hell. She told me the feeling was intense and her pussy pulsating from her orgasms. Members please enjoy this private video clip.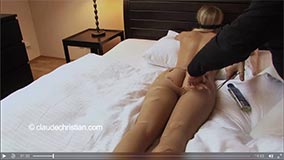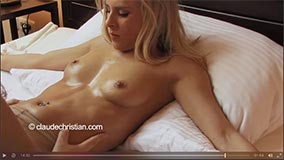 click here for video mp4 - 16 min 20 sec - streaming 960x540
click here for zip file mp4 - 960x540
click here for video mp4 - 16 min 20 sec - streaming 640x360