Gigi - preview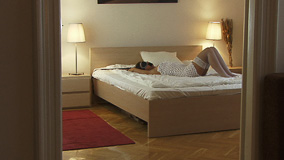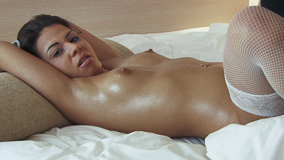 Gigi is a very shy cute girl with none or little experience of sex. But she wants to learn and experience. She told me she wants to try it all - everything. This girls body is lovely. Her small breasts are extremely sensitive and her nipples even more. Her nipples get rock hard and her tight pussy is always wet. She told me she masturbates every day, at least 3-4 times and loves to orgasm, loves the feeling of a warm wet throbbing pussy. She admitted she gets instant orgasm if she caresses her clitoris. Also, she admitted, being penetrated immediately starts her orgasm intensely. I hade her come over to my place a couple of late afternoons and even one late night. Had her show off her body in nylons and naked. She told me meeting a stranger made her extremely excited and horny.
* * *
This is the place if you want to see women 18+ naked and in nylons in private personal pics and video clips. The women are true amateurs and show you how lovely they look and how horny they are. Become and stay Member and see all the updates from each woman - private photos and videos.
*
Below are the updates so far in Members Area
* * *
Gallery Gigi wet pantyhose
One late evening, Gigi came over. I told her to go to the bathroom and undress, keep her pantyhose on and take a shower. She did. The water made her nylons totally see through. The excitement she experienced made her nipples puffy and hard. Her pussy dripping wet! Members please enjoy my 19 selected very private pics.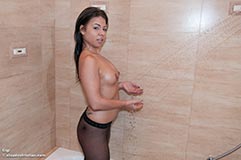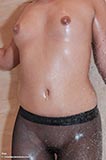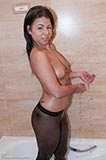 Gallery
download this gallery as zip file - pics in size 3000 pixels