Kristina - preview
Kristina is a shy cute blond girl that has never been in front of a camera, nude, before. I had her come to my hotel room one afternoon. She was shy. But soon I had her slowly take off her clothes and show her lovely white lingerie. She told me getting undressed in front of a stranger made her horny, her pussy wet. She took off her bra and garter belt. Made sure I saw her body from every angle. Then in my bed, still wearing the nylons she made sure do spread her legs and show off her pink wet pussy.
* * *
This is the place if you want to see women 18+ naked and in nylons in private personal pics and video clips. The women are true amateurs and show you how lovely they look and how horny they are. Become and stay Member and see all the updates from each woman - private photos and videos.
*
Below are the updates so far in Members Area
* * *
Gallery Kristina shows off her body
Having this cute nervous girl showing me her body was a treat. Her nipples were hard, her pussy wet. And she was extremely horny. She told me she loves to fuck. And she admitted she loves to be submissive and have men do whatever they want to do to her. She also told me she loves to fuck in public. Knowing people might see her being fucked and sucking dick. Members please enjoy my 50 selected very private pics.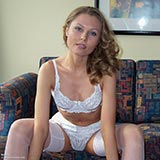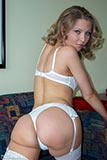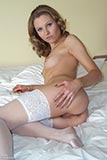 Gallery
download this gallery as zip file - pics in size 1280 pixels