Sabina - preview..

Some women are just more sexy! When Sabina emailed me and said she is a horny slut that loves sex and wondered if I wanted to shoot her, guess what I answered! So, I told her to set aside some hours and we would met, and she could show me how horny she is. During some late afternoon hours one rainy day we then had some very pleasant hours. Sabina is only 21yo but she's got a woman's full body. Her breasts are perfect B size, full and firm and with perfect shape, all natural. Her nipples are extremely sensitive and reacts immediately to touch. And she's got the tightest pussy ever that opens as she spreads her legs. And this woman is always horny, always wet. And her ass, well her ass is amazing, guess you could say big but at the same time just perfect.
* * *
This is the place if you want to see women 18+ naked and in nylons in private personal pics and video clips. The women are true amateurs and show you how lovely they look and how horny they are. Become and stay Member and see all the updates from each woman - private photos and videos.
*
Below are the updates so far in Members Area
* * *
Gallery Sabina wearing pantyhose
I wanted to see Sabina in pantyhose and high heels. So I told her to undress, slowly she did in front of me. She was a little shy but I told her to turn around and let me see her. When she turned her back against me I told her to stop. Her ass is fantastic, big firm and round. I told her to push her ass back and she willingly did. Standing close to her I had both my hands grab her ass, what a feeling, had to stand closer so her ass touched me. I grabbed her breasts and that was a very very nice feeling to. Just the fit for a hands full. Told her to push her ass back more. It felt nice. She caressed me with her ass as I pinched her nipples. She moaned and told me she was getting wet. I stood back and told her to put on pantyhose and high heeled shoes. She obeyed and when she was dressed she look even more sexy, if possible. Her big ass looked so sexy and her legs too. I told her to show me how horny she is, how sexy she can be, and she did. Members please enjoy my 25 selected very private pics.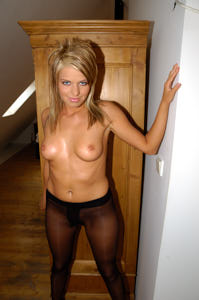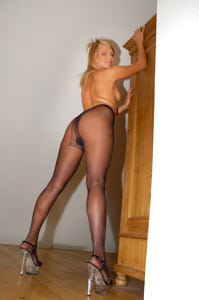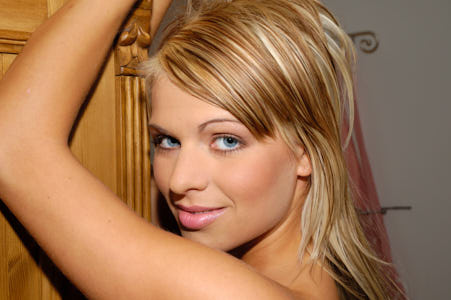 Gallery - download this gallery as zip file - pics in size 3000 pixels
Gallery Sabina nude bath
I try to give you photos and videos with a private touch. From my meetings with women. Private in the sense that the woman is relaxed, horny and wants you to see her body, to see that she is horny. That she is fantasizing about men looking at her. This is definitely a private shoot. Sabina told me she loves to have her legs spread, loves when a man, when men, can see her pussy, that it makes her wet. She said she loves to fuck, best is the feeling when a cock opens her pussy and starts entering. The second best feeling, she said, is when a man ejaculates deep inside her. Third best feeling, when a man ejaculates in her mouth. As for her own orgasms she said, that's no problem, she orgasms several times without problem. She said that she has to masturbate several times a day if she can't get fucked. Having a short skirt on, no panties and spending time on the bus going home at night she often slowly masturbates to orgasm without the others on the bus noticing it, or sometimes they do, she said smiling. In this shoot she is naked and oily and very horny. I tell her to spread her legs for me, and she willingly does. Members please enjoy my 25 selected very private pics.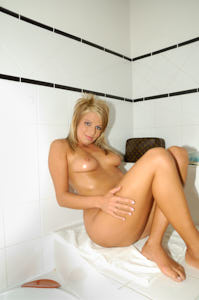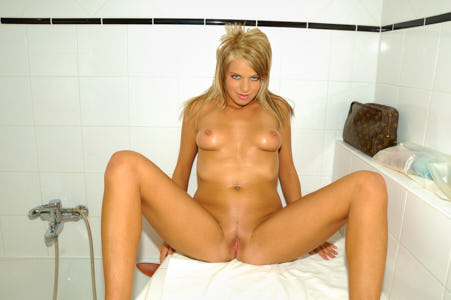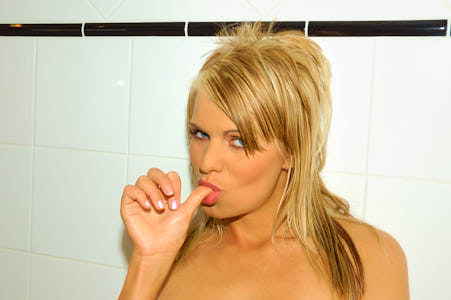 Gallery - download this gallery as zip file - pics in size 3000 pixels