Christina - preview

Christina loved being in front of the camera. Loved showing off her body. This girl is so amazingly beautiful. Her body is a "10". Small firm breasts with extremely sensitive nipples. A slim waistline, her ass is round and firm. Her pussy au naturel and, she told me, always wet. And her legs are long and slim. It was a treat having her at my place a couple of afternoons. Shooting her undressing, in bed and getting wet in the shower. And she's super nice, always smiling. Please enjoy this exclusive shoot.
* * *
This is the place if you want to see women 18+ naked and in nylons in private personal pics and video clips. The women are true amateurs and show you how lovely they look and how horny they are. Become and stay Member and see all the updates from each woman - private photos and videos.
*
Below are the updates so far in Members Area
* * *
Gallery Christina amazing beauty - shows her body
Christina came to my place, first visit. She had dressed in a nice white top, no bra. Tight black short skirt, string panties and black exclusive stay ups and elegant high heels. I was amazed by her beauty, her smile and how cool and relaxed she was. I told her I wanted her to slowly undress, show her body from every angle. And she did, she loved it... making me horny, a stranger she had just met. Members please enjoy my 69 selected private pics.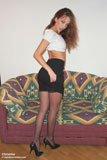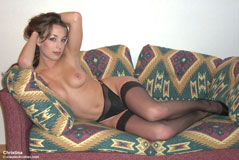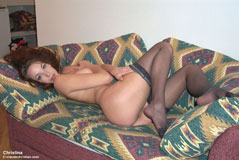 Gallery
download this gallery as zip file - pics in size 1280 pixels
Gallery Christina in red lingerie and gets wet in the shower
Christina loved coming over to my place late evenings. Always dressed very sexy. And she love slowly taking off her clothes showing her amazing body. One evening she had a lovely red lingerie outfit, she slowly exposed her breasts, ass and hairy pussy. Another night she was in a see through negligee ready for the night, but decided to take a shower still wearing the dress, then took it off. Members please enjoy my 63 selected private pics.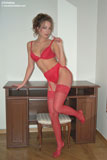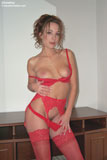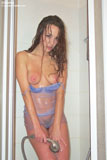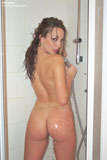 Gallery
download this gallery as zip file - pics in size 1280 pixels